BRODERSON CRANE EQUIPMENT
Partner with an authorized Broderson dealer in Texas, Louisiana and Oklahoma
Contact A Broderson Crane Equipment Expert
For more than 35 years, Broderson has designed powerful industrial and rough terrain cranes. Built for reliability and accessibility, Broderson cranes can be customized with a variety of options to meet your needs.
Broderson Cranes for Sale
Broderson Crane Parts
Scott-Macon Equipment is an authorized Broderson parts dealer in Texas, Louisiana and Oklahoma.
Our service centers have the capabilities to handle routine maintenance and the more complex, less frequent repairs to equipment. Our highly trained technicians complete services ranging from accident repairs to reconditioning at your site or at one of our service centers in Oklahoma, Texas and Louisiana. We can diagnose and inspect your cranes and help you create a planned maintenance schedule to keep your fleet ready to go whenever you are.
Contact us today to keep your Broderson equipment in peak condition.
Broderson Crane Service
Scott-Macon Equipment services Broderson equipment in the field as well as at all of our service centers in Houston, Texas; Houma, Louisiana; Baton Rouge, Louisiana; Tulsa, Oklahoma; Corpus Christi, Texas; San Antonio, Texas; Dallas, Texas; and Big Spring, Texas. Additionally, our service centers have extensive Broderson parts operations as well as the service capabilities to handle the more complex, less frequent repairs to all Broderson cranes and equipment.
About Broderson Cranes
Their rough terrain cranes can operate in harsh conditions with three steering modes and oversized rough terrain tires.  In addition to offering unmatched maneuverability that allows access to most areas on the job site, their rough terrain crane provides a superior load capacity of 15 tons. Meanwhile, their industrial cranes feature a carry deck that allows professionals to easily transport equipment without needing another work truck and they are designed for operation in tight quarters.
An official Broderson dealer, Scott-Macon Equipment offers a full line of new and used cranes for sale or rent.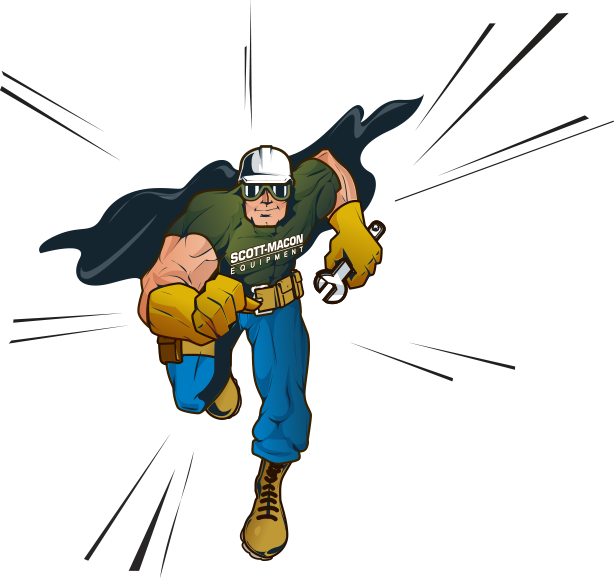 Scott-Macon Difference
Scott-Macon Equipment provides exceptional crane repair service and product support to our customers. Learn more about the Scott-Macon difference in our "When Service Matters" case study.