KOBELCO DEALER
Kobelco Lattice Boom Crawler Cranes
Headquartered in Houston, Kobelco focuses on manufacturing hydraulic lattice-boom crawler cranes. The company provides operational stability and technological advancements and engineers seven models of crawler cranes for efficiency, productivity and durability to offer a low cost of ownership.
Kobelco cranes range from 85 to 600 tons and are engineered with a compact structure for easy maneuverability. They offer an energy savings system that can enable up to 30 percent less fuel consumption. Other new features include an LMI touch screen, larger cab design and counterweight detection device.
Scott-Macon Equipment is an authorized Kobelco dealer in Dallas and Oklahoma, offering a range of new and used cranes for sale and rent.
Kobelco Cranes Available
Kobelco Parts
Scott-Macon Equipment is a Kobelco parts dealer in Dallas and Oklahoma. Our parts department has the full support and resources of Kobelco and stocks a complete line of parts at our facilities, including common replacement parts such as hoses and filters. We can also arrange for special orders and if you're in a hurry, we can arrange for overnight delivery or drop shipment to your equipment's location. Browse our inventory of Kobelco parts online.
Kobelco Crane Service
Scott-Macon Equipment services Kobelco cranes in the field and at our locations in Tulsa, Oklahoma and Dallas, Texas. We offer services ranging from routine maintenance to accident repairs to reconditioning. We can diagnose and inspect your equipment and help you create a planned maintenance schedule to keep your Kobelco equipment in top condition. Contact us to start today saving on your equipment maintenance today.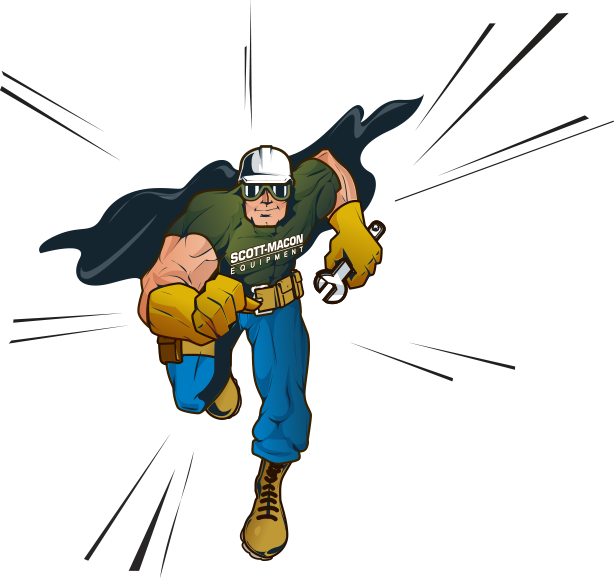 Scott-Macon Difference
Scott-Macon Equipment provides exceptional crane repair service and product support to our customers. Learn more about the Scott-Macon difference in our "When Service Matters" case study.