DEMAG
What Scott-Macon Equipment offers: Owner of one of the largest rental fleets of cranes in North America, Scott Macon sells, rents, and services lifting equipment throughout Texas, Oklahoma, and Louisiana.
An authorized Demag dealer, Scott-Macon Equipment offers a wide range of new and used Demag cranes for sale and for rent. With capacities ranging from 440 to 3,520 tons, crawler cranes are an ideal solution for job sites that requirement excellent maneuverability under heavy load. Demag all terrain cranes are versatile with a variety of boom lengths and feature an ergonomic cab design for operator comfort. The Demag line consists of 11 all terrain cranes, ranging from 100 to 1,200 tons of capacity as well as seven lattice boom crawler cranes, ranging from 400 to 3,200 tons.
Demag Equipment Sales
The following Demag cranes are available for sale from Scott-Macon Equipment:
Demag Parts Dealer
We are an authorized Demag parts dealer in Texas, Louisiana and Oklahoma. Our Parts Department has full support and access to Demag parts, including replacement parts such as filters, hoses, packing kits, sensors and special parts such as boom sections.
Demag Service
Scott-Macon Equipment services Demag equipment at all of our locations and service centers in Houston, Texas; Dallas, Texas; Corpus Christi, Texas; San Antonio, Texas; Houma, Louisiana; Baton Rouge, Louisiana; and Tulsa, Oklahoma. Additionally, we can also service Demag cranes out in the field to ensure minimal downtime on the job site.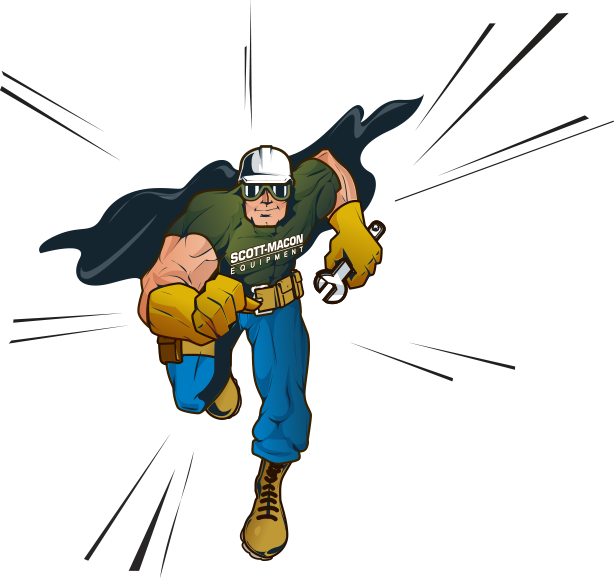 Scott-Macon Difference
Scott-Macon Equipment provides exceptional crane repair service and product support to our customers. Learn more about the Scott-Macon difference in our "When Service Matters" case study.